The Maine Attraction - What to Wear for Kennebunkport, ME
July 16 2018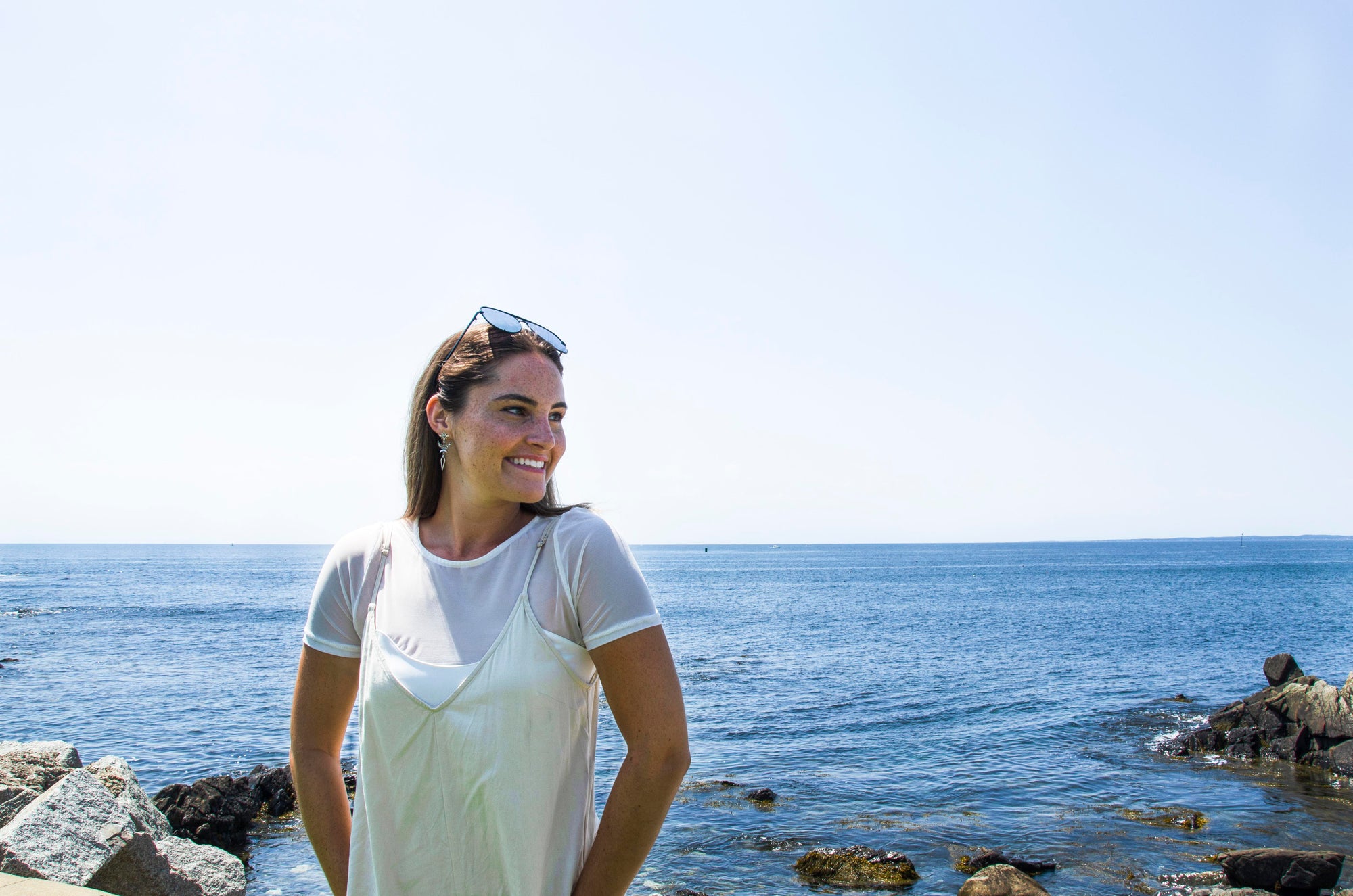 WHAT TO WEAR: Kennebunkport, ME
Summertime for so many of us is vacation time. Whether you are heading out in the car or travelling by plane, planning ahead and researching your destination is time well spent.  Our trip this summer was the beautiful signature coastal town of Kennebunkport, Maine. We always start our trip planning with Shop-Eat-Play activities in mind. While packing is usually the least favorite part for most people we love the opportunity to style and plan out our outfits. The number one thing we keep in mind is versatility. We want to be able to mix and match our accessories for whatever adventures we decide to go on.
First on our list had to be cruising along the spectacular rocky beach coastline; always looking for those special coves and picturesque spots.  We fell in love with Walker's Point, The Bush Estate, little cove. It was a rocky Zen garden, where we left behind our own stone work. With a beautiful breeze and endless sunshine comes the perfect sundress. Being by the shore we opted for a lightweight nautical style to pair with our "Y" Necklace, Chloe Earrings, and Crossed Path Necklace.

As we continued to cruise along we came upon  St. Ann's Episcopal Church an incredibly inviting rustic stone church. The ocean on one side and beautiful grassy lawns and gardens leading up to this beautiful accessible church circa 1887.  A great place to stretch our legs and explore around with our camera. Our lightweight linen rompers were perfect for the weather and paired with our  Touch the Sky  and Chloe Earrings! 
We can't go anywhere without shopping and Kennebunkport didn't disappoint with its seascape art galleries, tiny boutiques, and specialty gourmet shops that are all easily walkable in the lower village and Dock square area.  What we found most impressive was the laid back feeling as you strolled around the busy streets. Cars gave way to pedestrians eagerly; we seemed to float along from one beautiful storefront to the next. One of our favorite summer go-to's is the maxi dress because it provides a chic look while remaining comfortable. Maxi dresses transition perfectly from an afternoon of shopping to an evening sipping drinks dockside. By pairing a statement earring with the long silhouette this dress offers you a creative an overall balanced look. The statement earrings also add a playful sophistication to your outfit that makes you fit right into dinner at any restaurant.   

High on our list of must do's was to experience a Maine lobster fest. I don't think it's possible to eat any place in Kennebunkport where Lobster wasn't served.  So on our  "night out" we went a classic preppy New England look wearing a red, white and blue jumpsuit. We once again we wore our Y Necklace and added our 14K Gold Olimpia Bar Earrings to match.

Without reservations we had a very short and pleasant wait at the waterfront Boathouse Restaurant and Hotel, complete with valet parking.  We were seated at a charming table outside and quickly we began to feast on Lobster Spring Rolls, Lobster Mac N Cheese, Fresh Haddock, and of course the infamous Lobster Roll.  This five star experience was perfection and we would go back in a heartbeat. 

As our vacation wound down we were already committing to coming back in the Fall or at Christmas time. We loved how this quintessential New England fishing town had such character and provided so many ways to explore it. The laid back and casual atmosphere was the perfect way to spend a vacation.  Norman Rockwell moments for sure!